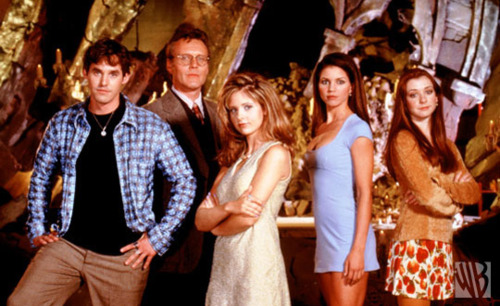 Everyone has that one show. That one show they were totally obsessive over. I have two. But the one show I was obsessive over led to the second show I was obsessive over.
The first one being Buffy the Vampire Slayer. My god, I was (and still probably am) obsessed with that show. It wasn't always the case though. I poo-poo'd the whole notion of the show. Until I was challenged by a friend to watch just one episode during its first run on BBC2. The episode I landed on was season 1's The Puppet Show and I was hooked. It's probably one of the weaker episodes of the season, but that alone was enough to hook me!
The other day I decided a rewatch was just what I needed. What with there not being much on TV at the moment, it felt like a perfect time.
I am falling in love with Buffy the Vampire Slayer all over again! So much so that if I don't get to watch at least one episode a day, it feels like someone's robbed me of something from my day!
Season 1 and 2 are done and dusted. Season 2's my all time favourite. Season 1, I love for the nostalgia, the monsters and most of all the fashion. I lost count of how much leopard print stuff there was in the first season. They loved it! And apparently it was acceptable to wear dungarees out and about and not just while painting the house.
What I did find funny rewatching the first season was the non-development of the Buffy/Angel relationship. Barely anything happens! Though clearly my teenage self thought different when I first watched this series. How is there even a relationship there? Well, I still bought it on this rewatch.
The most under rated episode of the first season – The Pack. Deliciously dark covers it. They EAT the principal!
Buffy's breakdown in Prophecy Girl, when she finds out she's prophesied to die, never got to me before. Until now. Clearly I didn't realise how powerful that one scene is.
(GIFS from here)
Favourites from the first season? In no particular order – The Pack, Prophecy Girl, Nightmares, Angel and Welcome to the Hellmouth.
Season 2 has one of the best premiere episodes – When She Was Bad is definitely among my favourite from the season. It concludes things from Prophecy Girl nicely and then shoves them along a bit. Every opening episode of Buffy more or less follows that template, but When She Was Bad does it best.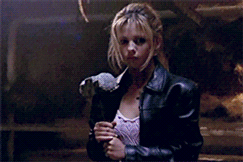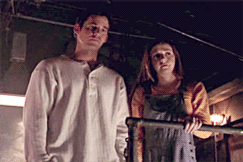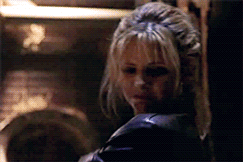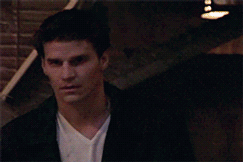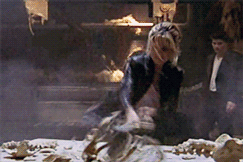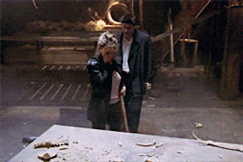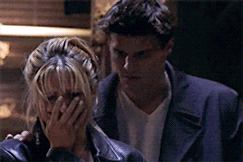 (GIFs from here)
How on Earth did it take them til season 2 to do a fully fledged Giles-centric episode? Shame The Dark Age wasn't a great episode, did give us a lot of good Giles stuff!
Talking of underrated characters, what about Xander. I have missed his quips SO much. Shame his episodes are never that great. (While it gave us Xander in a speedo, Go Fish really is an amusingly bad episode.) I did forget just how damn heroic he was. He's jumping into everything! But that one moment that always gets me is his 'white knight' moment in Killed by Death. He just stands right up to Angelus. That takes balls!
Angelus – best move they ever did for David Boreanaz. Don't get me wrong, I love the brooding Angel. So, so much. But as Angelus, David Boreanaz looks like he's having fun! Deliciously evil. I do think he's my favourite villain from the entire series.
One of the big things I do love about the second season of Buffy the Vampire Slayer is the Buffy/Giles relationship. Their moments never fail to bring me to tears. As in full on crying. The scene at the end of Innocence where they're sitting in Giles' car? Floods of tears. Two points in Passion – just after Giles has been rescued by Buffy from the burning building and then again at the end – more FLOODS of tears.
Favourites from season two? That is TOUGH! What with it being my all time favourite season of Buffy the Vampire Slayer. But if I have to choose – Innocence, Passion, Becoming Part I, Halloween, School Hard and When She Was Bad.
And yes, my massive crush that I had on Angel back then has returned with full force. So I'm trying to hurry this rewatch along so I can get onto an Angel rewatch. I had contemplated doing them concurrently when I hit season 4 of Buffy, but that involves taking discs in and out of the blu-ray player. Too much faff!
Enough talk. I could yammer on all day about just Buffy season 1 and 2 and really I need to get on with season 3! (Second favourite season of mine, for anyone who's keeping track.) Look for more Buffy fawning soon.