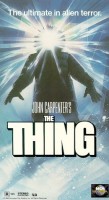 The Thing (29/10/11)
Scientists in the Antarctic are confronted by a shape-shifting alien that assumes the appearance of the people who it kills.
With the remake coming out fairly soon, I figured I need to educate myself on the original. And I'm glad I did.
Excellent horror/sci-fi film. It's all about the paranoia. The scene where Mac's testing the blood samples had me on the edge of my sofa. Loved it. Nothing in it was really all that predictable. The Thing itself was the most original and grotesque thing I've seen in a film. Seriously, it was just disgusting. But in the best kind of disgusting way.
The score from Ennio Morricone was fantastic. Built the tension beautifully. Without it, it wouldn't have been nearly as tense.
Looking forward to seeing the remake and seeing how it'll compare to this.
Rating: 4/5
Read on to see the entire list of movies seen this year so far:
87 Movies so far this Year